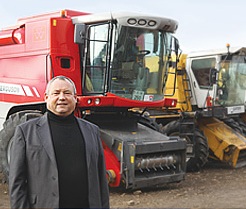 "I need to finance my agicultural projects at advantageous prices. Will ProCredit Bank offer me this possibility?"
ProCredit Bank places special emphasis on the development of agricultural businesses and has prepared a special financing package for farmers. We can offer you loans to purchase agricultural machinery and equipment, combine harvesters, tractors, irrigation equipment and farmland. The loans can also be used for the construction and maintenance of greenhouses or storage facilities. To be eligible for an agricultural loan, you need to have successfully completed one growing season.
Success in agriculture requires flexible investments and prudent financial planning. Support from a stable and trustworthy bank is essential to achieving this success.
Advantages:
Attractive r

ates for loans for purchase of equipment and machinery from the

bank's partners.

Convenient repayment schedule, adjusted to the specifics and seasonal characteristics of your business

Grace period – up to 9 months

Fast loan approval

No hidden commissions

Opportunity to take advantage of government grants  
To see the conditions for loans you can acces Information Disclosure
Note: We do not charge additional taxes and fees for drawing up documents, loan maintenance, etc. Fees are payable to state authorities or a notary only in the case of collateral registration.
Develop your business with us!
ProCredit Bank – a bank you can count on.